Pre-completion testing.



This is only applicable to new dwellings. Home extensions are exempt from pre-completion testing requirements under the Building Regulations although this may change in the future.
SOUND ABSORPTION TESTING OF THE BUILDING BETWEEN PARTY WALLS AND FLOORS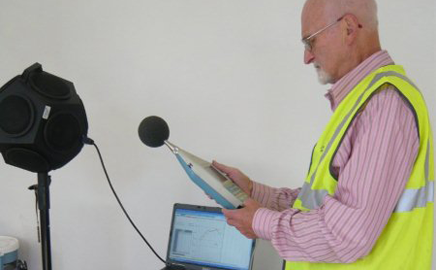 Pre-completion acoustic testing is a building regulation requirement for all purpose built and formed by material change of use (i.e. refurbished or change of use) properties since 2003.
Sound testing is undertaken in a percentage of properties in each development to ensure that the separating walls and floors between habitable rooms of neighbouring properties meet the minimum requirements as defined by Approved Document E, commonly referred to as ADE.
The minimum requirements depend on a variety of factors such as if the development is new build or refurbished or whether the development is intended to be a permanent dwelling, or classified as "rooms of residential purposes" (e.g. hotels, student accommodation, etc).
---
AIR LEAKAGE TESTING OF THE BUILDING ENVELOPE
The Building Regulations approved document Part L1A 2010 now specify that any new dwellings are built airtight. The regulation is focused upon conservation of fuel and power usage. Part L1A states that any new dwellings are tested for air tightness in accordance with Table 1 as shown below.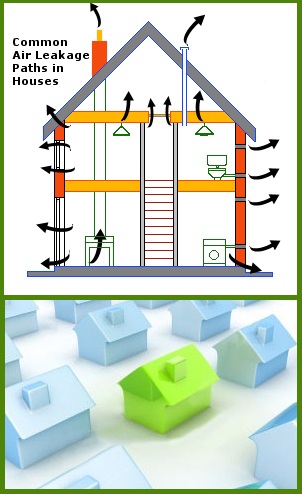 Air tightness testing is carried out by using a method known as a 'blower door test' in accordance with BS EN 13829. The measurement is taken by blowing air into the house via a particular door that is mounted in the main entrance. By the use of thermographic equipment, leakage paths can be identified.
The new Part L1A requires an air tightness of maximum 10 m3/hr/m2 air loss at a pressure of 50 Pa. Standard good practice for air tightness testing in the UK is a maximum of 7 m3/hr/m2 and best practice is 3 m3/hr/m2 of air loss. Section 6 of The Scottish Building Regulation requires a maximum of 7 m3/hr/m2 of air loss at a pressure of 50 Pa.
The results of the air pressure test (how leaky the finished building is) is then fed back into the original 'as designed SAP thermal calculation' for an 'as built SAP thermal caclulation'. Should it then fail the SAP rating target the air leaks will have to be identified & sealed.
Home extensions are so far exempt from this air pressure testing of the finished building.