The Construction (Design and Management) Regulations 2015 came into force on 6 April 2015, and can be accessed
here
.
Here is a useful flow chart of how the CDM 2015 Regulations may impact most domestic clients (click on image for larger scale viewing):-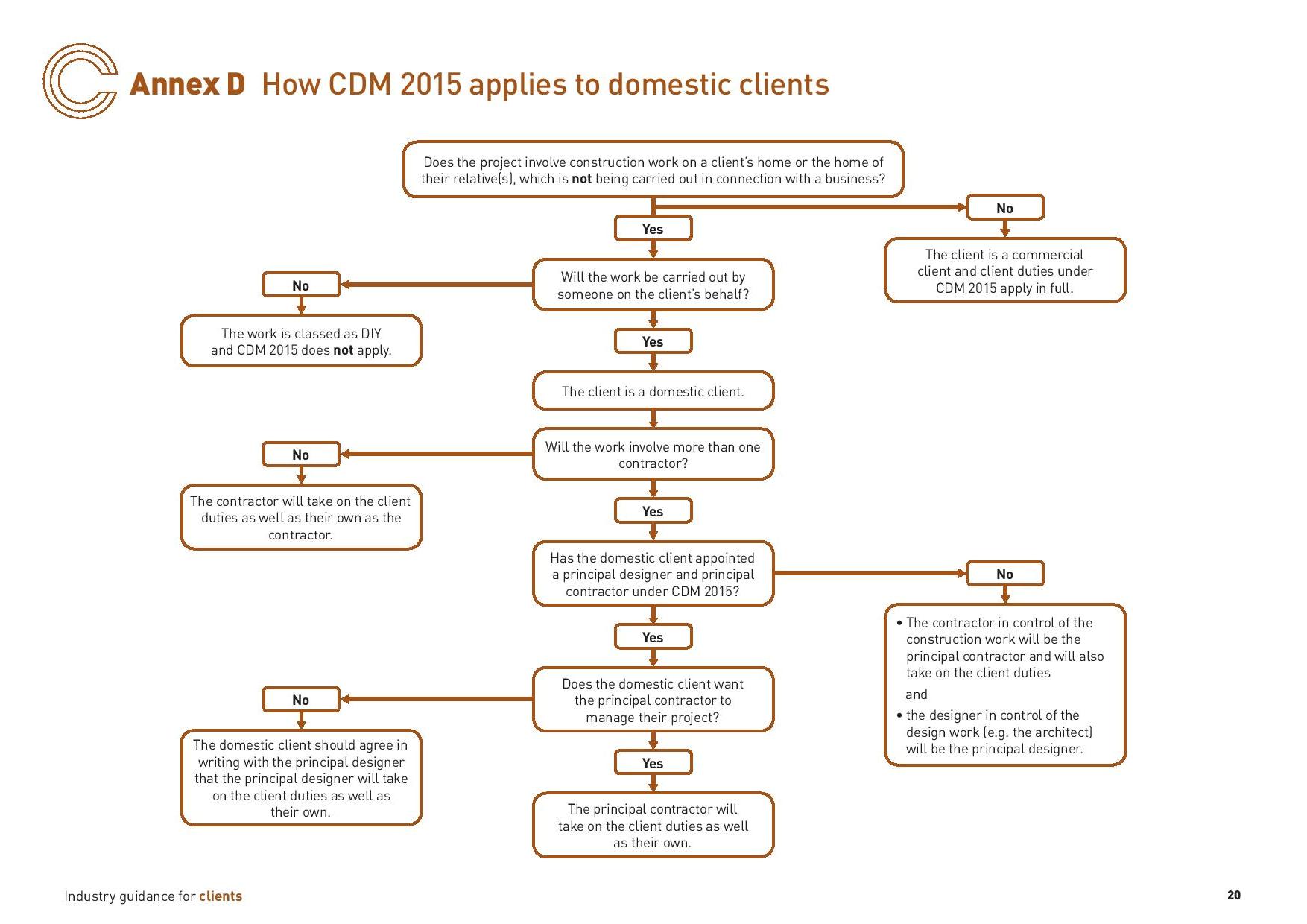 The PDF below is the consolidated information on these new regulations that the Institute published as an insert in Issue 113 of Architectural Technology magazine, which also included an article from Health and Safety Executive (HSE).
The CDM2015 guidance L153 ('Managing Health and Safety in Construction') was published on 2 April 2015, and a copy of this can be downloaded by clicking here.
You can download a copy of the HSE's Guidance on The Construction (Design and Management) Regulations 2015, as well as the CITB Industry Guides on the various roles and assistance on complying.
Print-friendly versions of the CITB guidance for dutyholders are freely available, and copies of the individual dutyholder guides can be downloaded from the links below. (PDF versions of these documents are also available from the CITB CDM Homepage.)
If clients are intending to organise the works themselves following approvals, they have obligations - as do their contractors - under the new regulations. Please call the APS on 0333 088 2015.
The Helpline will provide answers to simple CDM questions such as application, interpretation, appointments and notification. (Non-members with more complex questions will be referred to the APS website to find a Member to assist with their issues.)
Additional leaflets can be downloaded from the link below:
Need building work done? Short guide for clients on CDM2015 INDG411
A copy of the Construction Phase Plan from HSE can be downloaded here.
The following webpages were published on 2 April 2015:
Notification of a construction project
Free guidance documents for both Commercial and Domestic clients can be downloaded here.
Additional Information/further reference:
CDM wizard app for a construction phase plan
CIAT Insurance Services has also produced an information sheet that provides advice and guidance to members regarding liability issues following the changes to the CDM Regulations, and this can be downloaded below.
The Construction (Design and Management) Regulations 2015 - Risk & Disclosure