Architectural Services At A Glance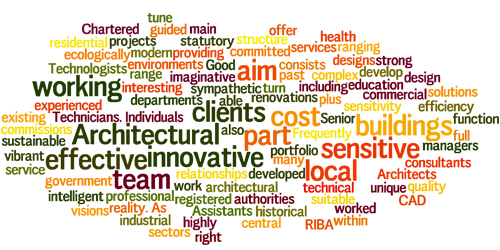 Below is a an outline of most services offered by CHP. You can select from them as you wish - use them like a menu system from partial or full services and you only need to commit to one at a time.
Each service is a 'stand alone' item of work that will be priced for as a fixed fee in most cases. This allows the client to pick the level of service that suits them at a known fixed cost.
---
The initial site meeting - To visit your home & listen to your aspirations, requirements and wish list. To offer advice and opinions relating to design, planning, structure, costs etc. and all other aspects relevant to your build. To compile a feasibility report covering everything discussed at that meeting together with a fixed fee proposal for utilising my services. Read more......
---
The property potential report - To visit your property and identify areas of potential development opportunities through the Planning system for maximum development. To analyse the merits and constraints of the site with regard to extending or complete redevelopment for a new rebuild or additional housing. Read more.....
---
The Joint Venture Development Schemes - To remove financial risk to the site owner / client in obtaining Planning Permission for larger scale residentail development for additional housing. Before selling your house or site lets get together and explore the most profitable options. This is a performance paid service that ensures the current site owner obtains the rewards from a suitable Planning gain on the site rather than another developer who has spotted the opportunities that your site has to offer. Read more.....
---
Design stage 1 - Survey and clients presentation scheme - For measured survey, compiling existing ground and first floor plans with existing elevations, preparation of proposed floor plans with one or two proposed elevations for clients initial assessment for discussion and approval purposes. This may also include for any alternatives & options on the internal layouts and external design for clients consideration. Read more.....
---
Design stage 2 - Meeting and upgrade to Planning application standard - For meeting to discuss clients initial scheme and incorporate any alterations, upgrade scheme with extra elevations and site/location plan to Planning application standard & to act as your Agent for the preparation of all forms, letters etc. to the Local Authority. Read more.....
---
Design stage 3 - Full construction scheme - After securing Planning Approval to upgrade the scheme with additional constructional details, sections etc. and a specification manual ready for the Building Regulations application and your own tender application to seek builder prices. For meeting to attend to any client alterations on the final details. To act as your Agent for the preparation of all forms, letters etc. to the Local Authority. Read more.....
---
Ancillary service 1 - Tender administration - Should the client choose not to seek &and obtain builder tender prices themselves CHP can offer this services for an admin. fee. Read more.....
---
Ancillary services 2 - Contract administration of the build on site - To visit the site during the build at regular periods and ensure that the scheme is being built in accordance with the approved scheme. To resolve any client or builder issues. To value the works for the builders payments. To record and value any variations during the build. Read more.....
---
Neighbour services - Planning assistance for when a neighbour is affected by a Planning Application - To visit the neighbours property and listen to their concerns over a Planning application. To view the proposals and offer advice and understanding as to how the proposal may affect them. To prepare a written statement / objection letter on the neighbours behalf identifying the legitimate Planning issues that the Councils Case Officer should be taking into account when assessing the acceptability of a Planning application. Read more.....
---